Sex on the Beach Cocktail Recipe
This is a cocktail that brings alive the taste of fruits in alcohol and takes mixed drink experience to a new high. This delicious fruity drink rates very high on refreshing scale and is every fruit cocktail lover's preferred mixed drink. Sex on the beach cocktail, not only has good tastes and flavor but also has visually tempting and irresistible looks.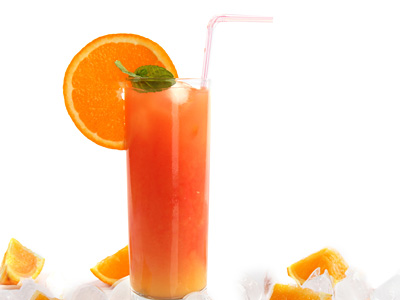 Preparation Time:
3 minutes
Glassware:
Highball glass
Ingredients:
30 ml (1 oz ) Vodka
15 ml (1/2 oz) Peach Schnapps
45 ml (1½ oz) Cranberry Juice
45 ml (1½ oz) Orange Juice
1 Orange Wheel and Mint Sprig
Ice Cubes
Directions:
Take cocktail shaker and add ice cubes in it until 2/3 full. Add all ingredients in it and shake well
Add few ice cubes in highball glass. Strain and pour prepared mixed drink in it, garnish with an orange wheel and mint sprig and serve.
Tips and Variations:
Use fresh orange and cranberry juice for refreshingly different experience.
Increase vodka to 2 oz (60 ml) for more potent kick.
Use grenadine in same quantity if cranberry juice is not available.
Add a splash of amaretto for extra flavor.
Serving Ideas:
This classy fruit cocktail is a delight to taste buds on warm sunny days for poolside parties.