Apple Daiquiri Recipe
Who doesn't like a daiquiri with nice and refreshing flavors of fresh fruit? This daiquiri gets its fruity apple notes and taste from apple juice. Delicious till last drop!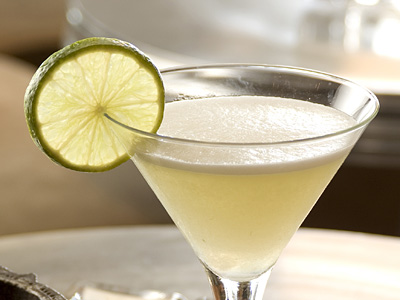 Preparation Time:
2 minutes
Ingredients:
2 oz (60 ml) White Rum
2 oz (60 ml) Apple Juice
1/2 oz (15 ml) Lemon Juice
1/4 oz (7 ml) Simple Sugar Syrup
1 Lemon Wheel OR Apple Slice
Ice Cubes
Directions:
Take a couple of scoops of ice in cocktail shaker and then pour rum, apple juice, lemon juice and sugar syrup over it. Screw the cap of shaker and shake until it starts to frost from outside (25-30 seconds).
Open the cap and strain mixed drink in to chilled martini glass.
Slit lemon wheel vertically till center and slide it on the rim of glass as garnish. Serve.