White Chocolate Raspberry Martini Recipe
Want to try something new with season's best fresh and sweet raspberries? Then try white chocolate raspberry martini, a creamy white and tempting concoction of raspberry flavored vodka, Godiva white chocolate liqueur and white crème de cacao. Enjoy this velvety smooth cocktail as a party drink or dessert drink during summer or winter holidays.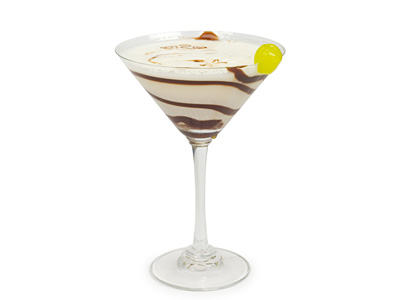 Preparation Time:
3 minutes
Ingredients:
30 ml (1 oz) Raspberry Vodka
60 ml (2 oz) Godiva White Chocolate Liqueur
15 ml (1/2 oz) White Crème de Cacao
1/2 teaspoon Chocolate Sauce
Ice Cubes
Directions:
Spread chocolate sauce on inside wall of glass as garnish.
Take all mixed drink ingredients (except raspberries) in cocktail shaker filled with ice.
Shake it until frosted from outside. Strain and pour mixed drink into chilled martini glass.