Eggnog Martini Recipe
Eggnog is a traditional winter celebration drink and having it in the form of martini with a kick of alcohol is a refreshing and creamy idea. Get into the true spirit of Christmas and New Year celebrations by preparing best eggnog martini with this recipe.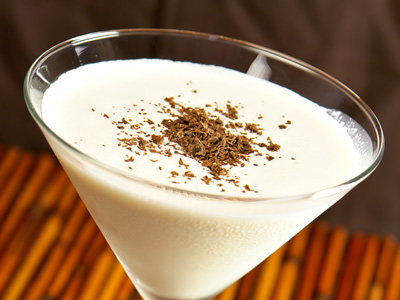 Preparation Time:
3 minutes
Glassware:
Cocktail Glass
Ingredients:
30 ml (1 oz) Vodka
30 ml (1 oz) Eggnog
30 ml (1 oz) Amaretto, Italian Sweet Almond Liqueur
1 Nutmeg or Cinnamon Stick
Ice Cubes
Directions:
Half fill cocktail shaker with ice.
Add vodka, eggnog, and amaretto in cocktail shaker. Tumble it few times and mix it well.
Take chilled martini glass; strain and pour eggnog cocktail in it.
Grate little nutmeg or cinnamon stick and sprinkle it on the drink's surface.
Tips and Variations:
If you do not have amaretto handy, then use almond liqueur.
Add a splash of spiced rum to have a little rummy taste.
Taste:
A true creamy and frothy taste of eggnog with mild almond traces of amaretto.
Serving Ideas:
Serve it in a chilled glass for Thanksgiving, Christmas or New Year get-together. This martini is a perfect way to get spirited during wintery holidays.