Lemon Basil Martini Recipe
Refreshing Lemon Basil Martini is a better alternative to lemon martini as it not only uses lemon juice and citrus vodka but also adds spicy flavor of fresh basil leaves to make it extra zingy. The great pairing of two flavorful ingredients, lemon and basil, in this cocktail makes weekend relaxation a dream come true.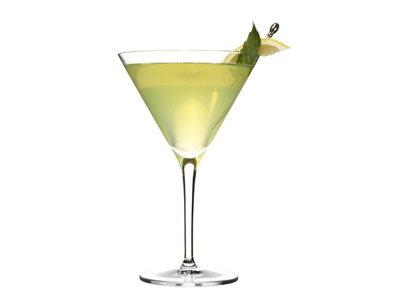 Preparation Time:
3 minutes.
Ingredients:
4-5 Fresh Basil Leaves
15 ml (1/2 oz) Lemon Juice
15 ml (1/2 oz) Simple Syrup
60 ml (2 oz) Citrus Vodka
1 Basil Sprig
1 Lemon Wedge
1 cup Crushed Ice
Directions:
Add fresh basil leaves, lemon juice and simple syrup in cocktail shaker and muddle basil leaves. Let it soak in lemon juice for couple of minutes. This will let basil flavor mix well in resulting drink.
Add crushed ice in cocktail shaker. Pour citrus vodka over it and shake well for 25-30 seconds.
Take chilled martini glass, strain and pour lemon and basil mixed drink in it.
Skew basil sprig and lemon wedge in cocktail skewer and garnish martini as shown in photo above.
Tips and Variations:
Martinis give best flavor when served in chilled cocktail glass. Bury serving glass in 3 cups crushed ice for 5 minutes before preparing this cocktail.
If simple syrup is not available then replace it with 1 teaspoon super fine bar sugar. Shake vigorously to make sure that it dissolves completely.
Add a splash of Limoncello for extra citrus flavor.
If vodka is not your favorite spirit, then replace it with gin in same measure.
Serving Ideas:
Serve it straight up in martini glass or with ice cubes in old-fashioned short glass for a change.
---
3 Comments
---
Jul 03, 2015 by Gail
My new summer favorite.

---
Apr 06, 2013 by joseph
Awesome drink...always the crowd pleaser.

---
Aug 21, 2012 by incredible crunchy flavor
This is my favorite cocktail!!

---