Apple Mojito Recipe
The touch of an apple schnapps turns classic mojito into a delicious apple mojito. Make one when you have a lot of time to relax because we are sure you don't want this drink to get over ever!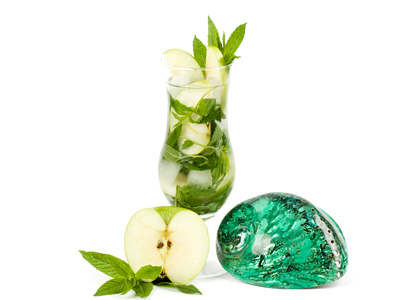 Preparation Time:
3 minutes
Glassware:
Hurricane glass
Ingredients:
2 oz (60 ml) White Rum
1 oz (30 ml) Apple Schnapps
1 oz (30 ml) Lime Juice
½ oz (15 ml) Sugar Syrup
1 cup Mint Leaves
1/2 Green Apple (Cut into Slices)
Crushed Ice
Directions:
Take 8-10 mint leaves in the cocktail shaker and lightly muddle them to release their essence oils.
Add rum, apple schnapps, sugar syrup and lime juice in the shaker and then add 1 scoop of crushed ice. Stir well with the help of bar spoon handle and pour it in to serving glass.
Add 2-3 apple slices and fill up remaining glass with another scoop of crushed ice. Churn with the bar spoon and garnish with mint sprig and apple slices. Serve with a straw.