Hot Apple Cider Alcoholic Recipe
This is a hot apple cider drink prepared by mixing spiced rum and all spices. This comforting and relaxing alcoholic drink is a perfect cocktail for welcoming fall and festive season. Get warm and cozy by having lightly spiced hot apple cider alcoholic prepared with this recipe.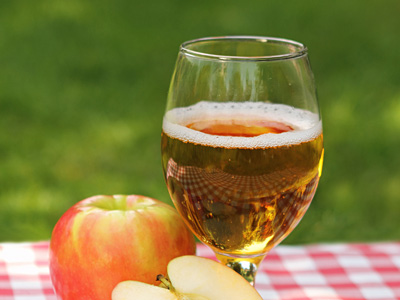 Preparation Time:
15 minutes
Ingredients:
300 ml (10 oz) Apple Cider
45 ml (1½ oz) Spiced Rum
45 ml (1½ oz) Orange Juice
2 tablespoons Lemon Juice
1 teaspoon Allspice
1 Apple (Granny Smith)
6 Lemon Rings
1/2 cup Sugar
12 Whole Cloves
Directions:
Stud apple with cloves. (This will give nice flavor to cocktail when heated with cider.)
Take studded apple, apple cider, orange juice, lemon juice, all spices and sugar in a pot. Put it on a medium heat.
Simmer for approx. 10 minutes and take pot away from heat source.
Take out the apple and discard it. Put spiced rum in it and stir well.
Prepare heat proof serving glasses; add lemon rings into each glass.
Pour rum mixed hot apple cider into serving glasses and serve.
Tips and Variations:
Use brown sugar instead of plain sugar for slightly more complex flavor.
Use cinnamon sticks as an alternative of lemon rings as garnish.
Taste:
Warm, sweet and aromatic
Serving Ideas:
Welcome fall by serving warm and spiced alcoholic cider as before or after dinner drink.