Boilermaker Drink Recipe
There are very few shooters which use whiskey, but those few pack a quite a lot of punch. One among them is boilermaker drink. It is a combination of whiskey and beer and can be drunk in multiple ways. Continue reading below to find out three different ways of enjoying this amazing, quickly intoxicating cocktail.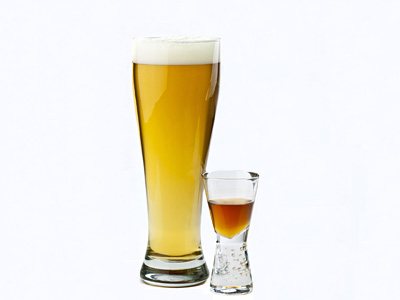 Preparation Time:
2 minutes.
Glassware:
Pint Glass and Shot Glass
Ingredients:
1 oz (30 ml) Whiskey
1 can (12 oz) Light Beer
Directions:
There are three different ways of enjoying it.
Serve whiskey in shooter glass and beer in a glass. First drink whiskey in single gulp and then drink beer at leisure.
Mix whiskey and beer in a glass and serve. Drink as quickly as possible.
Pour beer in a glass, position two chopsticks in parallel on top, carefully place whiskey filled shooter glass on it. Give a hard thump on table and let whiskey fall in beer (as in bomb shot or depth charge). Optionally stir and drink in single go.