Caramel Martini Recipe
This is a must have cocktail for any butterscotch lover who appreciates the taste and flavor of creamy caramel and wants kick of an alcohol too. The caramel martini prepared with this recipe tastes like a caramel shake but also has a slight hint of Irish whiskey. It uses vodka, baileys crème caramel and DeKuyper butterscotch liqueur to make deliciously creamy cocktail.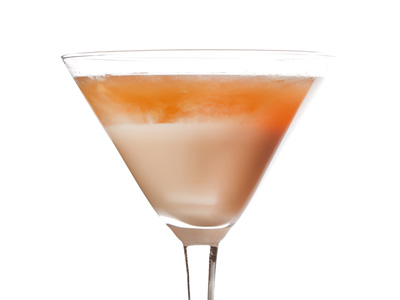 Preparation Time:
3 minutes
Ingredients:
30 ml (1 oz) Vanilla Vodka
60 ml (2 oz) Baileys Crème Caramel
30 ml (1 oz) DeKuyper Butterscotch Liqueur
10 ml (1/3 oz) Caramel Syrup
1 cup Crushed Ice
Directions:
Put martini glass in freezer to chill for 10 minutes. After 10 minutes, take out the glass and drizzle caramel syrup in it. Spread it in random strokes. Put glass back in the freezer to chill while you prepare the drink.
Add crushed ice in cocktail shaker until its 2/3 full. Pour all remaining ingredients over the ice and shake well until frosted from outside.
Take out garnished martini glass from freezer. Strain and pour prepared caramel cocktail drink in serving glass and serve.
Tips and Variations:
Increase the quantity of vodka to 60 ml (2 oz) if you like stronger martini.
Caramel syrup can be easily made at home by melting caramel chocolate chips.
If butterscotch liqueur is not available, then use butterscotch schnapps in similar quantity.
If you like hazelnut taste, then use baileys hazelnut for a delectable experience.
Serving Ideas:
Serve it as dessert cocktail drink.