Manhattan Cocktail Recipe
This classic whiskey based cocktail has long history and endless number of variants. There are many books that describe this cocktail in many different ways differing with each other in terms of ratio of ingredients to altogether using different ingredients. This recipe explains how to make original American Manhattan cocktail.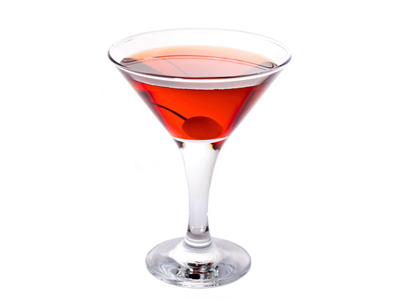 Preparation Time:
3 minutes
Ingredients:
50 ml (2 oz) American Whiskey
20 ml (1 oz) Italian Vermouth
1 dash (4 drops) Angostura bitters
1 Maraschino Cherry (with stem)
Ice Cubes
Directions:
Take ice cubes in cocktail shaker, pour all liquid ingredients in it and stir well.
Strain and pour drink into chilled martini glass. (Put cocktail glass in freezer 30 minutes before preparation OR bury cocktail glass in crushed ice for 5-10 minutes before starting to prepare the cocktail)
Garnish with maraschino cherry and serve.
Tips and Variations:
There was a time when Angostura bitters were not available in market readily. If you cannot find them, use orange bitters or any other good quality aromatic bitters.
The other strong contender of original Manhattan martini recipe involves using two parts American whiskey (60 ml), one part Italian vermouth (30 ml) and a dash of bitters (4 drops).
There are many variations of this classic cocktail; Following are few of the famous ones.
Make Dry Manhattan by replacing Italian vermouth with dry vermouth
Make Scotch Manhattan by replacing American whiskey with Scotch whiskey
Make Perfect Manhattan by using both dry vermouth and sweet vermouth in equal parts (1/2 oz each)
Serving Ideas:
Serve this classic American cocktail drink straight up in swanky martini glass.