Chocolate Cake Martini Recipe
This mixed drink recipe uses chocolate and hazelnut liqueur to recreate the magical taste of chocolate cake in a cocktail. Chocolate cake martini prepared with this recipe tastes sweet and can be enjoyed at anytime of the year. Be aware that this sweet cocktail is deceptive and has high kick factor.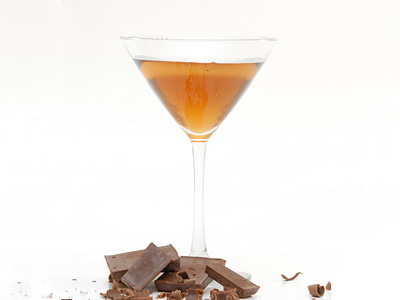 Preparation Time:
3 minutes.
Ingredients:
45 ml (1½ oz) Vanilla Vodka
45 ml (1½ oz) Crème de Cacao (white)
15 ml (1/2 oz) Hazelnut Liqueur
1 teaspoon Chocolate Shavings or 1 Banana wheel
Ice Cubes
Directions:
Chill martini glass by either keeping it in freezer for 30 minutes or by stuffing it in ice cubes.
Build all ingredients (except banana wheel) in cocktail shaker 2/3rd filled with ice.
Shake cocktail shaker for 30 seconds. Strain and pour chocolate cake cocktail into chilled martini glass.
Garnish drink by either floating chocolate shavings on its surface or sliding banana wheel on the glass' rim and serve.