Chocolate Peppermint Martini Recipe
This is a refreshingly minty cocktail for celebrating Christmas holidays. This recipe makes chocolate peppermint martini by mixing three simple ingredients, chocolate vodka, peppermint schnapps and crème de cacao. You can also use 2-3 drops of peppermint extract instead of peppermint schnapps in this holiday cocktail recipe.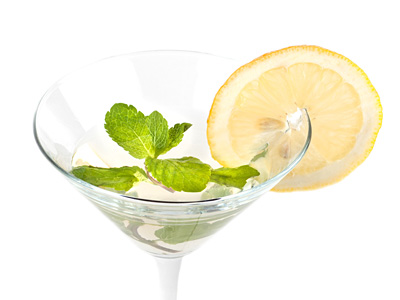 Preparation Time:
3 minutes.
Ingredients:
60 ml (2 oz) Chocolate Flavored Vodka
15 ml (1/2 oz) White Crème de Cacao
15 ml (1/2 oz) Peppermint Schnapps
1 Lemon Wheel
1 Mint Sprig
Ice Cubes
Directions:
Build all chocolate peppermint cocktail ingredients (except mint sprig) in cocktail shaker. Fill it up with ice cubes until 2/3 full.
Shake thoroughly for approx 30 seconds. Strain and pour mixed alcoholic drink into chilled martini glass.
Float mint sprig on drink's surface and rest lemon wheel on the glass rim and serve.