Chocolate Martini Recipe
It is an every chocolate lover's delight. Best chocolate martini can be easily prepared by mixing your favorite chocolate liqueur with vodka. This simple chocolate and vodka martini can be served as dessert cocktail for parties and functions. Learn how to make it at home for sweet indulgent unwinding with this easy recipe.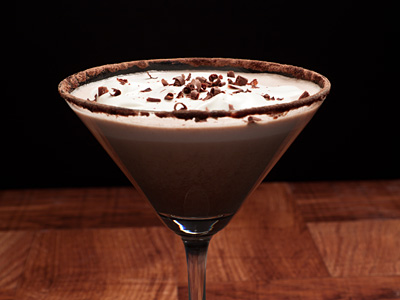 Preparation Time:
2 minutes
Ingredients:
30 ml (1 oz) Vodka
60 ml (2 oz) Dark Chocolate Liqueur
60 ml (2 oz) Skimmed Milk
15 ml (1/2 oz) Chocolate Syrup
1/2 teaspoon Cocoa Powder (Optional)
Milk Chocolate Shavings
Ice Cubes
Directions:
Shake vodka, dark chocolate liqueur, skimmed milk, chocolate syrup in a cocktail shaker 2/3 filled with ice cubes.
Take chilled martini glass, frost its rim with cocoa powder. (Put some vodka in flat plate. Spread out cocoa powder in another flat plate. Dip glass' rim in vodka and then dip it in cocoa powder)
Strain and pour prepared mix in the glass, sprinkle some chocolate shavings over it and serve.
Tips and Variations:
Use Godiva chocolate liqueur for best taste.
Use vanilla vodka for more complete and complimenting flavor.