Blue Lagoon Cocktail Recipe
As name suggests, it has a visually delightful lagoon blue color as well as refreshing taste. It is a mixed drink made from 1 part vodka, 1 part Blue Curacao and 4 parts lemonade.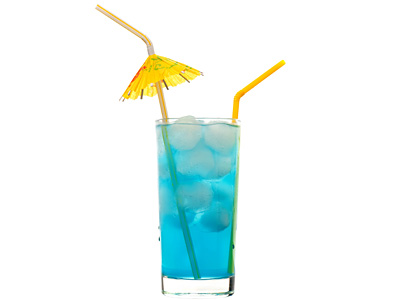 Preparation Time:
3 minutes
Glassware:
Highball Glass
Ingredients:
30 ml (1 oz ) Vodka
30 ml (1 oz) Blue Curaçao
120 ml (4 oz) Lemonade
2 cups Crushed Ice
Directions:
Take cocktail shaker and add 1 cup crushed ice in it.
Add all blue lagoon cocktail ingredients into cocktail shaker and shake well.
Fill highball glass with ice cubes. Strain and pour prepared mixed drink in it.
Garnish with a cocktail umbrella and serve with a straw.
Tips and Variations:
This is a standard recipe of blue lagoon drink. If you want it to be stronger and more potent, then increase vodka measure to 60 ml (2 oz) and reduce the lemonade to 2 oz or 3 oz.
Garnish with maraschino cherry for extra visual treat.
Taste:
Sweet and rejuvenating lemonade having orange flavor in the background
Serving Ideas:
Because of its cool blue hue, this cocktail blends well into warm and sunny beach or poolside environment. Enjoy it during weekend parties or any time you like it.