Chocolate Covered Cherry Martini Recipe
Chocolate covered cherry martini is a perfect lovey-dovey cocktail recipe for romantic dinners and valentine's day celebrations. This creamy chocolate liqueur and cherry vodka concoction can be enjoyed as dessert drink or as a pre-dinner cocktail.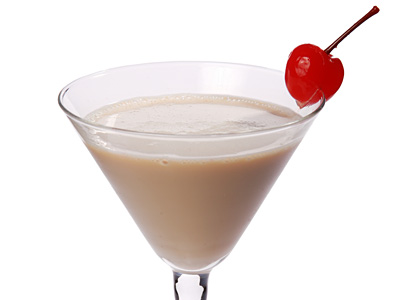 Preparation Time:
3 minutes.
Ingredients:
45 ml (1½ oz) Godiva Chocolate Liqueur
30 ml (1 oz) Cherry Vodka
30 ml (1 oz) Crème de Cacao (white)
30 ml (1 oz) Half and Half
1 Maraschino Cherry (preferably chocolate covered)
Ice Cubes
Directions:
Chill martini glass by filling it with ice cubes and water.
Build all chocolate cherry martini ingredients (except chocolate shavings and cherry) in cocktail shaker filled with ice.
Give cocktail shaker a good shake until frosted from outside.
Discard water from martini glass; strain and pour cocktail in it.
Garnish cocktail drink with cherry (you can also use chocolate shavings as a garnish) and serve.