Orange Crush Cocktail Recipe
This cool and refreshing summer cocktail is a full of zesty citrus flavor. This recipe of orange crush cocktail uses orange flavored vodka, orange liqueur, fresh orange juice and sprite to create a refreshing orange magic.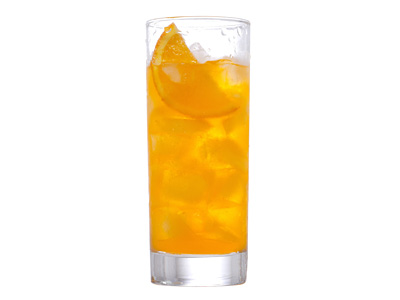 Preparation Time:
3 minutes
Ingredients:
60 ml (2 oz) Orange Flavored Vodka
30 ml (1 oz) Cointreau
120 ml (4 oz) Fresh Orange Juice
1 can (12 oz) Sprite or 7Up
Orange Slice
Crushed Ice
Directions:
Shake first three ingredients in an ice filled cocktail shaker.
Strain and pour mixed drink in ice filled collins glass.
Top up with Sprite or 7Up.
Garnish with orange slice and serve.
Tips and Variations:
To make a stronger cocktail for higher kick, use 3 oz vodka
You can keep topping up with sprite or 7up as you drink. This will make drink last longer.
If you like little tart taste then mix 15 ml (1/2 oz) lemon juice along with other ingredients in shaker.
If orange juice is too tart, then add 10 ml (1/3 oz) simple syrup or 1/2 teaspoon bar sugar.
Serving Ideas:
It is a cocktail that can be served in evening parties during hot summer months.
---
1 Comments
---
Jul 15, 2012 by David Fergusan
Excellent cocktail... very refreshing and balanced notes of orange..sprite does the trick

---