Orange Mimosa Recipe
Over years many orange mimosa recipes have appeared, each one having added some additional fruit juice or cocktail additives to enhance taste, flavor and looks. However, this bubbly orange mimosa recipe is simple. It retains the proportions of orange juice and champagne and uses splash of grenadine for extra flavor and tempting looks. The use of fresh orange juice compliments dry champagne and makes its one of best mimosa recipe.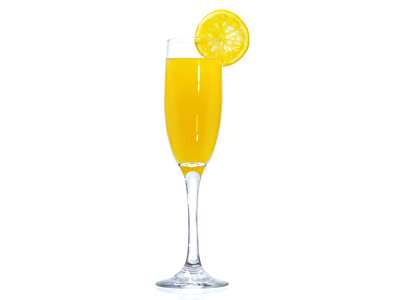 Preparation Time:
3 minutes.
Glassware:
Champagne Flute
Ingredients:
90 ml (3 oz) Fresh Orange Juice
90 ml (3 oz) Dry Champagne (chilled)
2 dashes Grenadine Syrup (optional)
1 Orange Wheel
Directions:
Add freshly squeezed fresh orange juice in chilled serving glass.
Top with chilled champagne; add couple of dashes of grenadine syrup and stir gently.
Garnish with orange wheel and serve.