Grapefruit Martini Recipe
When grapefruit vodka, fresh grapefruit juice, triple sec and lime juice are combined and served in a chilled martini glass with a garnish of grapefruit slice, a delightful grapefruit martini is born. Make warm and sunny summer evenings more refreshing and fun with this easy to follow mixed drink recipe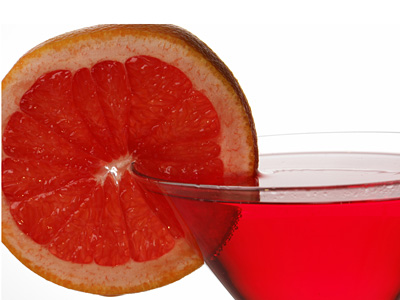 Preparation Time:
3 minutes
Ingredients:
30 ml (1 oz) Grapefruit Vodka (Ruby Red)
60 ml (2 oz) Pink Grapefruit Juice
30 ml (1 oz) Triple Sec
15 ml (1/2 oz) Fresh Lime Juice
1 Grapefruit slice
Ice Cubes
Directions:
Fill up mixing glass with ice cubes. Add all martini ingredients except grapefruit slice in it.
Shake cocktail mixer vigorously until it starts to frost from outside.
Put strainer cap on mixing glass and pour mixed drink into chilled martini glass.
Garnish with grapefruit slice and serve.
Tips and Variations:
Add 60 ml (2 oz) vodka for a stronger martini.
Add 20 ml (2/3 oz) of simple syrup for sweet and sour mixed alcoholic drink.
Garnish it with slice of crystallized ginger. It will give extra flavor too.
Serving Ideas:
Quench your alcohol thirst with a glass of this refreshing cocktail. It is a great "sit by the pool" drink for relaxed weekends.