Orange Blossom Cocktail Recipe
It is a concoction of gin, orange liqueur and orange juice. Gin dominates the taste while orange juice adds nice complementing citrus flavor and it can be served in two ways, straight up in martini glass or on the rocks in rocks glass.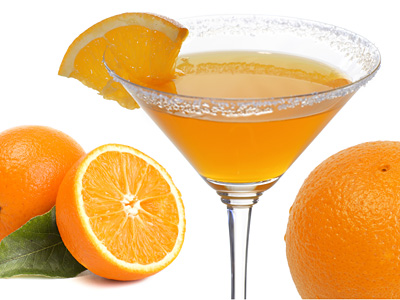 Preparation Time:
3 minutes
Glassware:
Cocktail glass
Ingredients:
30 ml (1 oz) London Dry Gin
10 ml (1/3 oz) Grand Marnier or Cointreau
30 ml (1 oz) Fresh Orange Juice
10 ml (1/3 oz) Lime Juice (optional)
1 dash Grenadine Syrup (optional)
Orange Wedge
Crushed Ice
Directions:
Frost the glass rim with bar sugar and put it in freezer to chill.
Take cocktail shaker2/3 filled with ice. Add first five ingredients in it and shake well.
Strain and pour chilled mixed drink in chilled cocktail glass.
Garnish with orange wedge and serve.
Tips and Variations:
This recipe uses grenadine syrup only for giving it a dark orange color, you can avoid it if you want to.
Original orange blossom cocktail recipe does not use lime juice. However this recipe uses it to bring subtle tartness to cocktail. If juice you are using is sweet and tart then you can avoid it.
You can also serve this cocktail on the rocks. Serve it in ice filled rocks glass.
When 30 ml (1 oz) Gin and 30 ml (1 oz) orange juice are shaken with ice and served in shot glass, it makes an orange blossom shot.
---
1 Comments
---
Mar 04, 2017 by Linda Theis
Made it with vodka and it was delicious.

---