Champagne Martini Recipe
This is a sparkling marriage of two most favorite types of alcoholic drinks in world, vodka and champagne. Apart from these two ingredients, this champagne martini recipe uses fresh strawberry as a garnish and provides tips to make its other variants.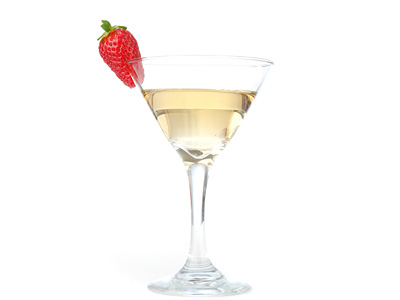 Preparation Time:
3 minutes
Ingredients:
45 ml (1-1/2 oz) Vodka
90 ml (3 oz) Champagne
1 Fresh Strawberry
1 cup Crushed Ice
Directions:
Fill 2/3 of cocktail shaker with crushed ice.
Add vodka and shake well.
Strain and pour it into chilled martini glass.
Top up with champagne.
Garnish by placing strawberry on the rim of glass and serve.
Tips and Variations:
Make sure that serving glass is chilled before starting to make this cocktail.
This is a potent drink. If you like even stronger drink, then use both ingredients in equal parts.
Do not let vodka sit in cocktail shaker for too long because water from ice will dilute it and ruin its taste.
If you like raspberry mixed with champagne, then add raspberry jam or puree in serving glass before poring vodka in it. This not only enhances its taste but also improves its visual appearance.
Serving Ideas:
Enjoy it on romantic dinner or as a relaxing evening drink at home.