French Martini Recipe
French Martini is a subtle red hued martini prepared with vodka and chambord, a French black raspberry liqueur. This cocktail drink was popularized by its key ingredient maker, Chambord, to promote the sweet and flavorsome black raspberry liqueur.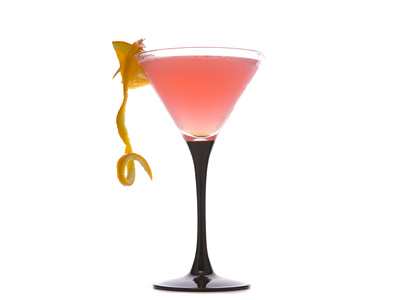 Preparation Time:
5 minutes
Ingredients:
60 ml (2 oz) Vodka
15 ml (1/2 oz) Chambord, French Raspberry Liqueur
60 ml (2 oz) Fresh Pineapple Juice
Pineapple Slice and Lemon Peel
Ice Cubes
Directions:
Half fill cocktail shaker with ice cubes.
Take vodka, chambord and pineapple juice into cocktail shaker and shake it vigorously.
Strain and pour it into chilled martini glass.
Garnish with lemon peel and slice of pineapple (Cut pineapple slice into 4 equal triangular parts by cutting through center vertically and horizontally. Take one triangular piece, slit it till half way and slide it on rim of the glass) and serve.
Tips and Variations:
Increase the quantity of Chambord to 30 ml (1 oz) for deep tempting red color of martini.
If you like little mild taste of vodka, then keep cocktail shaker aside to let cocktail chill for couple of minutes before straining and pouring into martini glass.
Taste:
Perfect combination of sweet and sour taste with rich black raspberry and pineapple flavor.
Serving Ideas:
Serve it straight up. It is a perfect weekend party drink suitable for any occasion.