Raspberry Martini Recipe
Raspberry Martini, a great fruit flavored mixed drink, is a good choice as a Christmas martini. Enjoy the blissful flavor of the season by relishing this fruity cocktail. This cocktail recipe uses raspberry flavored vodka and Chambord, a raspberry liqueur, to get best flavor of the fruit.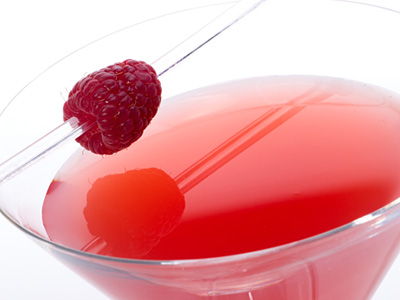 Preparation Time:
3 minutes
Glassware:
Cocktail Glass
Ingredients:
60 ml (2 oz) Raspberry Vodka
30 ml (1 oz) Chambord, Liqueur
30 ml (1 oz) Triple Sec
20 ml (2/3 oz) Cranberry Juice
Fresh Raspberry
Ice Cubes
Directions:
Take crushed ice in cocktail tumbler.
Add raspberry vodka, chambord, triple sec and cranberry juice into a cocktail mixer. Shake for 30-40 seconds.
Strain and pour drink in to chilled martini glass.
Skewer fresh Raspberry on cocktail pick and place that on to the rim of martini glass and serve.
Tips and Variations:
You can use plain vodka instead of flavored vodka. Muddle fresh raspberries in a glass and pour some vodka over it. Keep the mix aside for few minutes. Add ice and remaining ingredients into cocktail shaker and shake well.
If you do not have Chambord, then use raspberry juice and simple syrup in equal parts.
Add 1/2 oz chocolate liqueur for fruity chocolaty taste.