Hot Chocolate Martini Recipe
It's difficult to find anyone who doesn't like hot chocolate (unless person is a chocolate hater!!). Hot chocolate martini is a cocktail prepared by mixing cooled hot chocolate, cream, liqueur and alcohol similar to that of a typical martini. Even though it is not actually served hot, this deceptively named cocktail marvel is as delightful as its non alcoholic counterpart.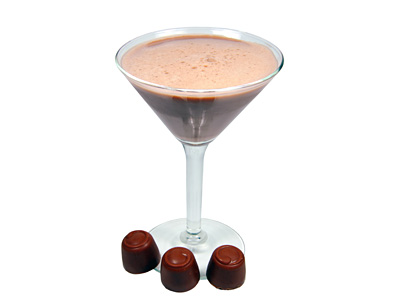 Preparation Time:
3 minutes.
Ingredients:
30 ml (1 oz) Vanilla Vodka
60 ml (2 oz) Hot Chocolate (cooled)
30 ml (1 oz) Cream
15 ml (1/2 oz) Dark Crème de Cacao
30 ml (1 oz) Baileys Crème Caramel
Ice Cubes
Directions:
Take all cocktail ingredients (except roasted marshmallows) in cocktail mixing glass 2/3 filled with fresh ice cubes.
Shake it until frosted from outside. Strain and pour mixed drink into chilled martini glass.
Garnish as desired and serve.