Baileys Chocolate Martini Recipe
Martini made with Baileys is one of the best chocolate martini to enjoy for extreme chocolaty indulgence. The combination of Baileys with Hint of Mint Chocolate, vodka and dark chocolate syrup gives unique sensory experience in every sip and has slight undertone of refreshing mint.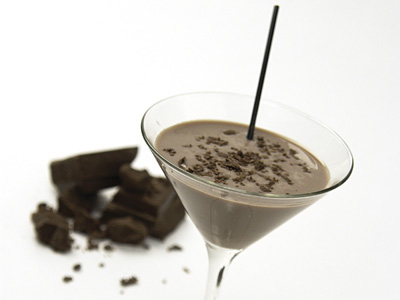 Preparation Time:
3 minutes
Ingredients:
30 ml (1 oz) Vodka
60 ml (2 oz) Baileys with Hint of Mint Chocolate
10 ml (1/3 oz) Dark Chocolate Syrup
Chocolate Shavings
2 cups Crushed ice
Directions:
Fill up cocktail shaker with crushed ice until 3/4 full.
Add Baileys and vodka in cocktail shaker and shake well for 20-25 seconds.
Take chilled martini glass, drizzle dark chocolate syrup on its inner wall and spread it randomly. Strain and pour baileys-vodka mix into martini glass.
Garnish with chocolate shavings and serve.
Tips and Variations:
You can also use Baileys Original Irish Cream. Shake it with a chocolate flavored vodka or add half ounce of good quality chocolate liqueur.
Serving Ideas:
Serve it as a dessert for after dinner light drink or as a comfort drink during evenings.