Brandy Alexander Recipe
This sweet and creamy concoction revives the memory of its early 1980's craze. The quick chilling of brandy in ice filled cocktail mixer allows its pleasant aroma's to come out and it compliments the drinks smoother and fuller feel.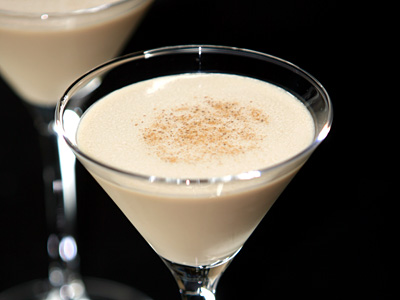 Preparation Time:
2 minutes.
Glassware:
Cocktail Glass.
Ingredients:
1 oz (30 ml) Brandy
1 oz (30 ml) Dark Crème de Cacao
1 oz (30 ml) Fresh Milk Cream
Nutmeg
Ice Cubes
Directions:
Fill cocktail shaker with ice until 2/3 capacity. Pour all ingredients over it and shake fore 20-25 seconds.
Strain and pour drink in to chilled cocktail glass and grate fresh nutmeg over it as garnish.