Frozen Peach Bellini Recipe
Frozen Bellini is a cool and refreshing variation of classic bellini cocktail. It is an ultimate summer cooler prepared by blending champagne, peach puree, peach schnapps and lemon juice with crushed ice. Follow this easy frozen peach bellini recipe and beat the heat of summer with a cool and slushy refresher.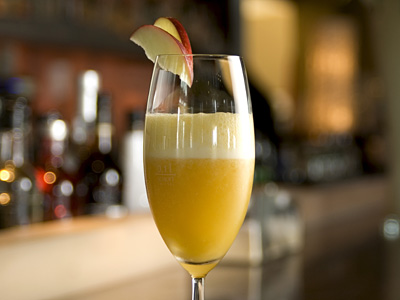 Preparation Time:
5 minutes
Glassware:
Champagne Flute
Ingredients:
180 ml (6 oz) Peach Puree
360 ml (12 oz) Champagne or Sparkling wine
45 ml (1½ oz) Peach Schnapps
15 ml (1/2 oz) Lemon Juice
1 cup Crushed Ice
6 Fresh Peach Slices
Directions:
Add all ingredients (except fresh pear slices) in blender jar and blend until slushy.
Pour prepared peach slush into chilled champagne flute.
Garnish each glass with couple of fresh peach slice and serve.
Note: You can prepare fresh peach puree by blending 2 cups peach slices in blender until slushy.