Spiced Pear Martini Recipe
Want to try something new and spicy to quench your libation thirst? Try spiced pear martini; this pear flavored spicy cocktail is a simple concoction of spiced rum and pear juice. However, this cocktail doesn't get its titillating spiciness only from spiced rum, it also uses mint and nutmeg to increase the temper of the cocktail.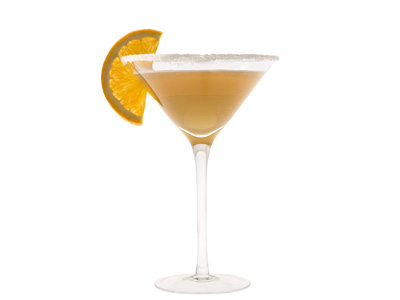 Preparation Time:
3 minutes
Ingredients:
30 ml (1 oz) Spiced Rum
30 ml (1 oz) Pear Juice
1 teaspoon Simple Syrup
1 teaspoon Lime Juice
2 Mint Sprigs
1 pinch Ground Nutmeg
Ice Cubes
Directions:
Muddle mint sprigs in cocktail shaker. Fill it up with ice until 2/3rd full.
Add spiced rum, pear juice, simple syrup and lime juice in it; shake vigorously until drink inside gets icy chilled.
Strain and pour prepared spiced pear cocktail drink into chilled martini glass.
Sprinkle ground nutmeg on the surface of the drink; garnish with fruit slice and serve.