Blueberry Lemon Drop Martini Recipe
If you are in a mood for something sweet and zesty and want to beat the summer heat, then try blueberry lemon drop martini. This fresh blueberry infused lemon flavored cocktail is simply as refreshing and zesty as classic lemon drop martini and this cocktail recipe uses fresh blueberries and blueberry flavored vodka to get blueberry twist to it.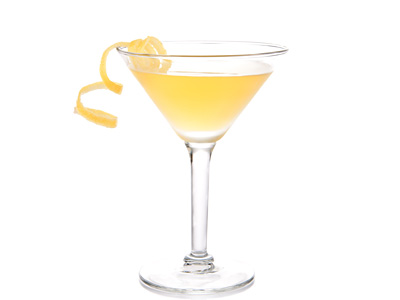 Preparation Time:
3 minutes.
Ingredients:
60 ml (2 oz) Blueberry Vodka
30 ml (1 oz) Limoncello
15 ml (1/2 oz) Triple Sec
15 ml (1/2 oz) Lemon Juice
5 Fresh Blueberries
1 Lemon Twist
Ice Cubes
Directions:
Take blueberries in cocktail shaker and muddle it. Add vodka, limoncello, triple sec and lemon juice in cocktail shaker.
Add ice cubes until 2/3 full.
Shake thoroughly for 20-25 seconds. Fine strain and pour mixed drink into chilled martini glass.
Garnish with lemon twist and serve.