White Chocolate Peppermint Martini Recipe
White Chocolate Peppermint Martini is a Christmas special martini. This recipe is very similar to white chocolate martini except that it uses peppermint schnapps to add refreshing mint flavor to its sweet taste. Christmas and New Year celebrations are not complete unless you have enjoyed this drink.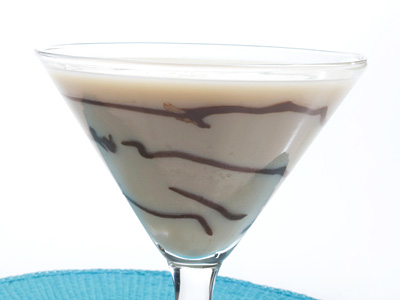 Preparation Time:
5 minutes
Ingredients:
30 ml (1 oz) Vodka
30 ml (1 oz) White Chocolate Liqueur
30 ml (1 oz) Milk Cream
30 ml (1 oz) Peppermint Schnapps
10 ml (1/3 oz) Melted Chocolate
1/2 teaspoon Dark Chocolate Bar Shavings
Ice Cubes
Directions:
Garnish chilled martini glass's inner wall with melted chocolate and put it in freezer while you prepare the drink.
Take all remaining liquid ingredients in a cocktail shaker half filled with ice and shake it vigorously
Strain and pour mixed drink in chilled garnished glass.
Sprinkle dark chocolate bar shavings on top and serve.
Tips and Variations:
Use half-and-half (half milk, half cream) to make less creamier drink.
Use chilled ingredients to make best results.
Serving Ideas:
Served it as a dessert cocktail.