Whiskey Sour Cocktail Recipe
It's a classic. This cocktail recipe retains the original proportions of spirit, sweet and sour ingredients to 8:4:3 ratio and uses the traditional garnishes. Even though it's a sour drink, many find this original drink to be sweeter than a sour one. If you are one of them, then change the spirit:sweet:sour ingredients ratio to 8:2:4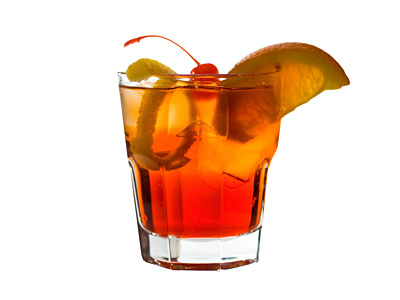 Preparation Time:
2 minutes
Glassware:
Old Fashioned Glass
Ingredients:
2 oz (60 ml) Bourbon Whiskey
3/4 oz (25 ml) Freshly Squeezed Lime Juice
1 oz (30 ml) Sugar Syrup
½ Egg White
2 dashes Angostura Bitters
1 Thin Lemon Wedge
1 Lemon Peel
1 Maraschino Cherry
Ice Cubes
Directions:
Fill cocktail mixing glass with ice cubes until 2/3 full. Fill up serving glass with ice cubes.
Build first five whiskey sour ingredients in mixing glass and shake well, strain drink into serving glass.
Drop lemon twist and cherry in the drink, rest lemon wedge on the rim and serve.