Red Death Drink Recipe
This cocktail is not for a fainthearted people who just get high in one drink as its very fruity and alcohol will kick in before you even know. The combination of five different spirits, each with different fruity flavor, makes red death one of most flavorful and potent cocktail recipe. Enjoy it over a weekend when you have got plenty of time.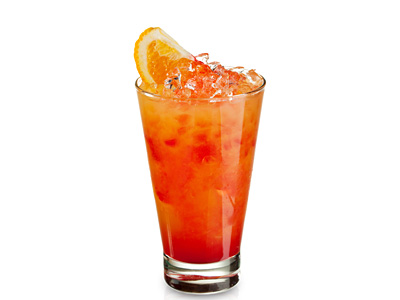 Preparation Time:
2 minutes
Ingredients:
1 oz (30 ml) Southern Comfort
½ oz (15 ml) Vanilla Vodka
½ oz (15 ml) Sloe Gin
½ oz (15 ml) Cointreau
½ oz (15 ml) Amaretto
½ oz (15 ml) Lemon Juice
4 oz (120 ml) Orange Juice
1 Orange Wedge
Ice Cubes or Crushed Ice
Directions:
Fill up serving glass with ice cubes and build first 6 ingredients over it and top with orange juice.
Garnish with orange wedge and serve.
---
1 Comments
---
Jan 13, 2019 by Drucilla
Thanks for the good old time drinks that are the best drinks ever. Thanks

---