Pomegranate Cocktail Recipe
Pomegranate is one of the most popular flavor of the holiday season and there are numerous cocktail recipes that call for use of pomegranate juice or grenadine syrup. This refreshing pomegranate cocktail is a medley of two fruity flavors, pomegranate and blood orange, and its served on the rocks in lowball glass. This long drink is an ideal fruity alcoholic drink for holiday parties.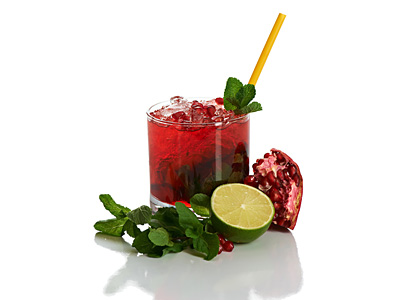 Preparation Time:
3 minutes
Ingredients:
60 ml (2 oz) Vodka
30 ml (1 oz) Pomegranate Juice
30 ml (1 oz) Blood Orange Juice
30 ml (1 oz) Triple Sec
10 ml (1/3 oz) Lemon Juice
Directions:
Fill 2/3rd of cocktail shaker with fresh ice cubes. Add all ingredients in it and shake well.
Fill up lowball glass with ice.
Strain prepared pomegranate-blood orange cocktail drink into lowball glass, garnish with a mint sprig and serve.