Hurricane Drink Recipe
It is a sweet cocktail drink made with dark rum, white rum, passion fruit syrup, lime juice and orange juice. This passion fruit hued mixed drink is not only delighting to taste buds but also a visual treat to eyes. Learn how to make best hurricane drink with this easy recipe.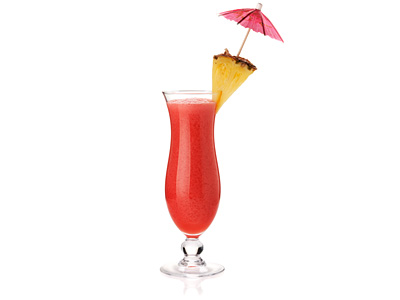 Preparation Time:
3 minutes
Glassware:
Hurricane Glass
Ingredients:
60 ml (2 oz) Dark Rum
60 ml (2 oz) White Rum
60 ml (2 oz) Passion Fruit Syrup
30 ml (1 oz) Lime Juice
30 ml (1 oz) Orange Juice
2 tablespoon Simple Syrup
1 tablespoon Grenadine
1 Pineapple or Orange Slice
Ice cubes
Directions:
Add 5-6 ice cubes in cocktail shaker, pour all hurricane ingredients over ice in cocktail shaker and shake until chilled to desired level.
Add 5-6 pieces of ice cubes in hurricane glass. Strain and pour mixed drink in it.
Garnish with slice of fruit and serve with a straw.
Tips and Variations:
Original recipe of Hurricane (as per international bartender's association) uses 1 part dark rum, 1 part white rum, 1 part passion fruit syrup and splash of lime juice.
This extra sweet cocktail was invented in New Orleans, USA and its slight different version uses Bacardi 151 rum in addition to dark and white rum and replaces passion fruit syrup with pineapple juice.
Taste: Sweet, this fruit flavored mixed drink is high on taste as well as kick.
Serving Ideas:
Serve it in weekend parties during summer. It is a long drink, which can be enjoyed while having long engrossing conversations with your friends and family on relaxed weekends.