Pomegranate Mimosa Recipe
It is a delectably different compared with orange mimosa. This deliciously fruity mimosa variation uses pomegranate juice in addition to champagne and orange juice to make sweet but not so tart brunch cocktail. This brunch cocktail recipe prepares frozen pomegranate mimosa; if you don't like it frozen, then you can avoid blending fruit juices with ice in directions given below.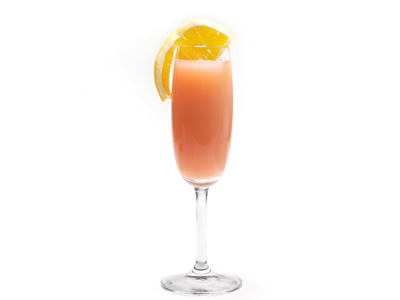 Preparation Time:
3 minutes
Glassware:
Champagne Flute
Ingredients:
60 ml (2 oz) Orange Juice
60 ml (2 oz) Pomegranate Juice (chilled)
120 ml (4 oz) Sparkling Wine or Champagne (chilled)
1/2 cup Crushed Ice
Directions:
Blend first two pomegranate mimosa ingredients with crushed ice in blender until slushy.
Pour pomegranate-orange slush into champagne flute glasses.
Top with sparkling wine and stir gently.
Mimosa with a twist of pomegranate is ready. Optionally garnish with orange wedge and serve.