Fuzzy Navel Cocktail Recipe
It is a concoction peach schnapps topped with orange juice and served on the rocks in highball glass. Fuzzy Navel is a light cocktail compared to its stronger cousin Hairy Navel due to exclusion of vodka in its preparation.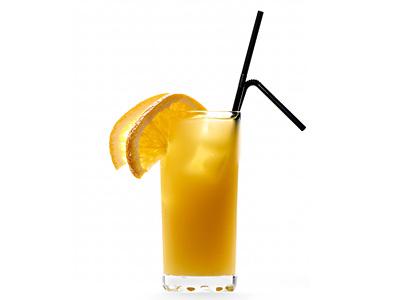 Preparation Time:
3 minutes
Glassware:
Highball Glass
Ingredients:
45 ml (1½ oz) Peach Schnapps
1 can Orange Juice
2 Orange Slices
Ice Cubes
Directions:
Take chilled highball glass and put ice cubes in it.
Pour peach schnapps over ice.
Fill up the remaining empty glass with orange juice.
Stir well, garnish with orange slices and serve with a straw.
Tips and Variations:
Use fresh orange juice instead of canned one for fresh aromatic cocktail.
Other suggested garnish is to frost the rim of glass with bar sugar. Dip glass' rim in orange juice and then in bar sugar before adding ice cubes and other ingredients.
Taste:
A divine combination of sweet peach and juicy orange is irresistibly sweet and tangy.
Serving Ideas:
It is a milder cocktail, hence, its a good candidate for poolside parties and brunch cocktail.