Kamikaze Shot Recipe
This cocktail gets its name because of its powerful bomb like effect of quickly turning your sobriety to ashes! To live up to its name, it was concocted to be a shooter but overtime its drink type variation has also become popular. Not only that, the traditional sweetener; triple sec, is replaced by other liqueurs like Blue Curaçao to make delicious blue kamikaze. This recipe explains them all.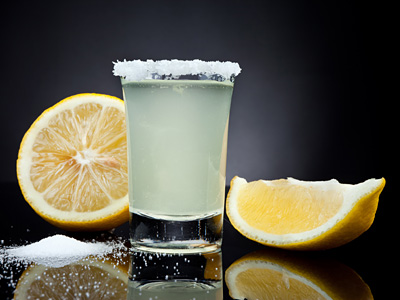 Preparation Time:
2 minutes
Glassware:
Shot / Lowball
Kamikaze Shot Ingredients:
1 oz (30 ml) Vodka
1/2 oz (15 ml) Triple Sec
1/2 oz (15 ml) Lemon Juice
Ice Cubes
Kamikaze Drink Ingredients:
2 oz (60 ml) Vodka
1 oz (30 ml) Blue Curaçao
1 oz (30 ml) Lemon Juice
Ice Cubes
Directions:
For shot: Shake all shot ingredients with ice and pour into shot glass
For drink: Shake all drink ingredients with ice and strain into ice filled lowball glass.
Tips and Variations:
Replace Triple Sec with Blue Curaçao or Raspberry Liqueur in same measure to make Blue kamikaze or Raspberry Kamikaze respectively. You can also convert them to shooter by halving the measures and serving them in shot glass
Replace vodka with tequila for a change.