Mimosa Punch Recipe
Punches are great way to share and celebrate happiness in holiday parties. Mimosa punch is one of the best and exclusive punch recipes that combines refreshing orange juice, cranberry juice, champagne and soda water. Discover how to make fizzy orange juice and champagne mimosa cocktail punch with this mixed drink recipe.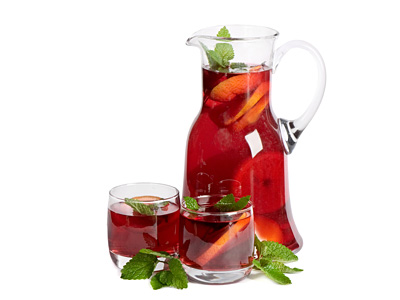 Preparation Time:
3 minutes.
Glassware:
Punch Bowl & Champagne Flute
Ingredients:
1 can (12 oz) Orange Juice (chilled)
1 can (12 oz) Cranberry Juice (chilled)
1 teaspoon Grenadine Syrup
1 can (12 oz) Soda Water (chilled)
1 bottle (25.3 oz) Champagne or Sparkling Wine (chilled)
6 Orange Slices
Ice Cubes
Directions:
Take punch bowl or large pitcher, add first two ingredients in it and mix well.
Add grenadine syrup and soda water; stir gently.
Pour champagne or sparkling wine in the punch bowl and stir gently.
Float orange slices in the prepared mixed drink.
Place ice cubes around bowl to keep it cool. (Add few ice cubes in the drink if it gets warm)
Fill champagne flute glasses with prepared punch and serve.