Baileys Martini Recipe
Baileys Irish Cream is a classic creamy liqueur made with famous Irish whiskey and fresh cream. This cream based liqueur can make delicious martini when mixed with flavored or plain vodka. This Baileys martini recipe uses 3 parts of Baileys original Irish cream liqueur and 1 part of vodka.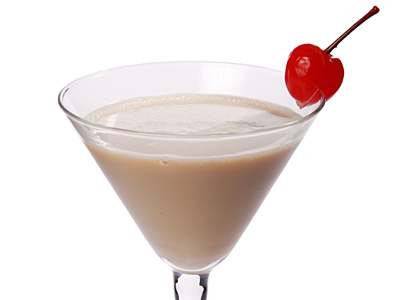 Preparation Time:
3 minutes
Ingredients:
30 ml (1 oz) Vodka
90 ml (3 oz) Baileys Original Irish Cream
1 Maraschino Cherry (for garnishing)
Ice Cubes
Directions:
Half fill cocktail mixer with ice cubes.
Add all ingredients in cocktail shaker filled with ice. Shake for approx 30 seconds.
Take chilled serving glass, strain prepared drink in it, optionally garnish with a maraschino cherry and enjoy.
Tips and Variations:
You can garnish this simple Baileys Irish cream martini with fresh cream for extra creaminess and exotic looks.
You can also use other cream liqueurs like coffee or crème caramel in the same proportions.
The martini prepared with this recipe is bit stronger. You can use 4 parts of baileys and 1 part of vodka to prepare little toned down drink.
Taste:
Wonderful creamy taste with a hint of vodka.
Serving Ideas:
Serve it as a dessert or comfort drink during evenings.
---
1 Comments
---
Apr 01, 2017 by Pev
Use strawberry vodka and you get a sublime drink reminiscent of strawberrys and cream
I dare you to resist .

---