Bronx Cocktail Recipe
Its original early 1900's recipe called for use of 8 parts gin, 1 parts dry and sweet vermouth each and 4 parts orange juice. However, the resultant drink is too dry but not overly bitter compared to the drinks of same era. This bronx cocktail recipe changes the proportions a bit to make it suitable to the taste of current generation of drinkers.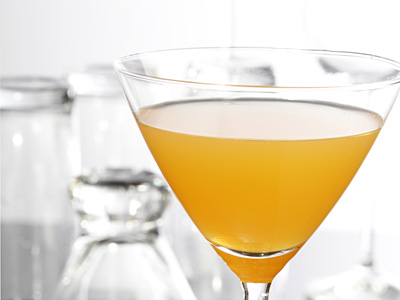 Preparation Time:
2 minutes.
Ingredients:
1½ oz (45 ml) Gin
2/3 oz (20 ml) Dry Vermouth
2/3 oz (20 ml) Sweet Vermouth
1 oz (30 ml) Orange Juice
Ice Cubes
Directions:
Shake all ingredients in ice filled cocktail shaker and strain into chilled cocktail glass.
Optionally garnish with orange wedge or maraschino cherry and serve.
Tips and Variations:
Add ½ egg white along with other ingredients in cocktail shaker to make amazing Silver Bronx