Bikini Martini Recipe
It is a titillating blue colored cocktail drink that is irresistible by its looks, taste and name. Blue bikini martini is a concoction of dry gin, blue curacao and peach schnapps. The orange taste of blue curacao and peach flavor of peach schnapps gives Bikini cocktail drink a refreshing tropical feel making it suitable for beachside or poolside parties.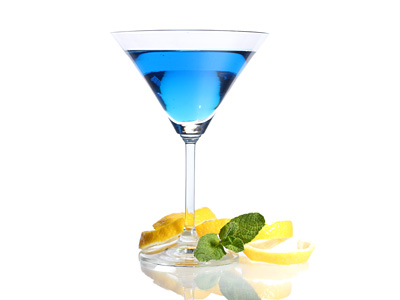 Preparation Time:
3 minutes.
Ingredients:
60 ml (2 oz) London Dry Gin
30 ml (1 oz) Blue Curacao
30 ml (1 oz) Peach Schnapps
1 Orange Twist
Ice Cubes
Directions:
Take all cocktail ingredients (except orange twist) into mixing glass or cocktail shaker.
Fill it up with ice cubes. Shake well for 30 seconds or until frosted from outside
Strain and pour prepared mixed alcoholic drink into chilled martini glass.
Garnish with orange twist and serve.