Alice in Wonderland Recipe
There are two different concoctions with same name and both are prepared using different ingredients as well as drunk in a different way. One is a Alice in wonderland shot – a layered grand marnier and tequila shot and the another is Alice in wonderland drink – an equal parts mix of Southern Comfort, Grand Marnier and amaretto served on the rocks or straight up in old-fashioned glass.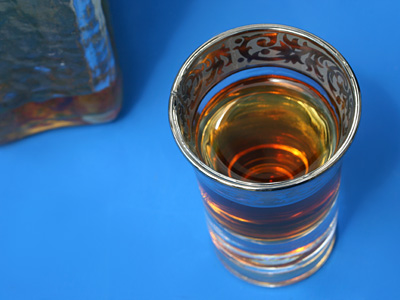 Preparation Time:
2 minutes
Glassware:
Shot/Old-fashioned
Alice in Wonderland Shot:
Shooter Ingredients:
1 oz Grand Marnier Orange Liqueur, chilled
2/3 oz (20 ml) Tequila (Gold or Reposado), chilled
Directions:
Pour orange liqueur in the shot glass and then carefully pour tequila over back of spoon positioned over glass mouth. Chug.
PLACEMENTXXX
Alice in Wonderland Drink:
Ingredients:
1 oz (30 ml) Southern Comfort
1 oz (30 ml) Amaretto Almond Liqueur
1 oz (30 ml) Grand Marnier Orange Liqueur
1 Orange Wedge
Directions:
Shake all ingredients with ice and in cocktail shaker and strain into ice filled rocks glass. Garnish with orange wedge and serve.
---
2 Comments
---
Apr 06, 2014 by Solaroo
I've had the Alice in Wonderland drink, and while I was honestly expecting something with a brighter color (or even blue), I wasn't completely put off by the drink. I had hoped that it would be a bit fruiter, with the Southern Comfort and Grand Marnier, but I feel it has a very- woodsy taste to it. Much reminding me of the Tulgey. So if anything, I would've named it something related to the forest little Alice was lost in. Otherwise I found it to be alright.

---
Apr 08, 2013 by Johnny Diablo
I'm still trying to figure out this drink got it's name. The Alice in Wonderland doesn't really seem to have anything to do with the Lewis Carroll story, the characters, or anything else I can put my finger on.

---