Cranberry Margarita Recipe
If you like sweet and tart cranberries then you will love this margarita. It's a simple mix of cranberry juice, tequila, grand marnier and lime juice. Perfect to celebrate the arrival of festive fall and winter season.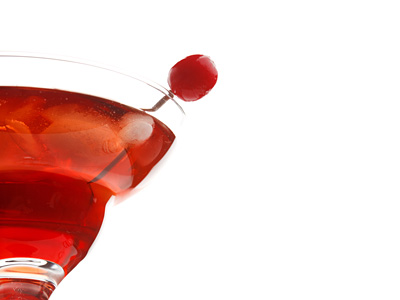 Preparation Time:
2 minutes
Glassware:
Margarita glass
Ingredients:
2 oz (60 ml) Cranberry Juice
2 oz (60 ml) Reposado Tequila
1 oz (30 ml) Grand Marnier Orange Liqueur
2/3 oz (20 ml) Lime Juice
1 Cranberry (for garnishing)
Natural Salt
Ice Cubes
Directions:
Moist the rim of chilled glass by running lime wedge around it. Dip the glass' rim in the salt spread on flat plate. Add few ice cubes in the glass.
Measure and pour all ingredients in cocktail shaker and add ice cubes until 3/4th full. Shake thoroughly to chill and mix the drink inside.
Strain and pour mixed drink into ice filled salt rimmed serving glass.
Skewer cranberries on cocktail pick and garnish drink with it.