Lemon Ginger Martini Recipe
This martini is very similar to ginger vodka martini but it replaces limoncello with ginger lemonade and vodka with gin. Discover how these two small changes simply transforms the taste and appeal of the mixed drink.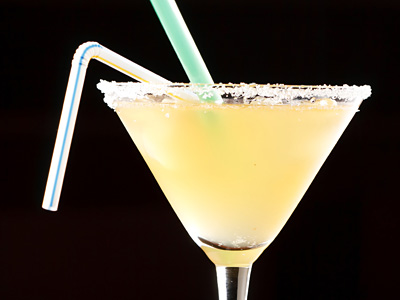 Preparation Time:
3 minutes
Ingredients:
60 ml (2 oz) Gin
60 ml (2 oz) Ginger Lemonade
4-5 Basil Leaves
1 cup Crushed Ice
Directions:
Frost the rim of the glass with salt and put it in a freezer for 20-25 minutes to chill.
Muddle basil leaves in gin in a cocktail shaker.
Fill it up with ice until half; pour ginger lemonade over it and shake well.
Fine strain and pour chilled mixed drink into chilled martini glass.
Tips and Variations:
Add 1 oz (30 ml) triple sec to add more punch and citrus flavor.
If you have ginger syrup (see recipe below), use it instead of ginger lemonade and add 1/2 lemon's juice for variation.
How to make Ginger Syrup?It can be easily prepared by simmering 4 cups water, 2 cups granulated sugar and one small piece of fresh ginger (sliced into small flat pieces) for up to 20 minutes.