Bloody Beer Recipe
It is a variation of widely known and appreciated bloody mary and borrows the concept of using spicy tomato drink to make a cocktail. As name suggests, bloody beer is prepared by mixing beer with spiced tomato juice. Discover how to make refreshing and light cocktail of beer and tomato juice with this easy beer cocktail recipe.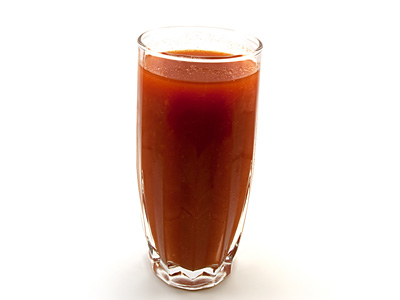 Preparation Time:
3 minutes.
Ingredients:
1 bottle or can (12 oz) Light Lager Beer
120 ml (4 oz) Tomato Juice
1 dash Worcestershire Sauce
1 dash Tabasco Pepper Sauce
1 pinch Ground black pepper
5 ml (1/6 oz) Lime Juice (Optional)
Directions:
First add tomato juice in the pint glass followed by Worcestershire sauce, Tabasco pepper sauce and lime juice, stir well.
Top up with light lager beer and stir.
Sprinkle ground black pepper on top and serve.
Tips and Variations:
You can use ready-made or homemade spicy bloody mary mix instead of tomato juice to make this simple cocktail. If you are using ready-made mix then there is no need to use Worcestershire sauce, Tabasco pepper sauce and lime juice.
Make sure to use only light lager beer because flavor of any other type of beer will not go down well with spicy tomato taste. You can use any brand of light lager beer though.
Use clamato juice instead of tomato juice for a variation in taste.
Taste:
Refreshing, light, crisp, fizzy and savory.
Serving Ideas:
Enjoy it anytime you like during hot summer days. Serve it as an alternative to traditional bloody mary as brunch cocktail or with plate of nachos or chips as a snack for relaxed evening or weekend while watching TV.