Spicy Bloody Mary Recipe
This recipe uses more spices than a normal modern day bloody mary adaptation but its less spicier than the original bloody mary recipe which makes fiery drink. The spicy bloody mary cocktail gets its spiciness from the above normal usage of Worcestershire sauce, ground black pepper, prepared horseradish and pepper sauce.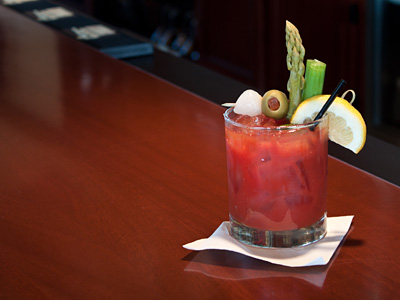 Preparation Time:
3 minutes
Ingredients:
30 ml (1 oz) Vodka
90 ml (3 oz) Tomato Juice (thick)
10 ml (1/3 oz) Lemon Juice
2 dashes Worcestershire Sauce
2 pinches Celery Salt
1 pinch Ground Black Pepper
1/4 teaspoon Prepared Horseradish
1 dash Tabasco Pepper Sauce
Ice Cubes
Salt and Ground Black Pepper mix
Directions:
First garnish the serving glass by frosting its rim with salt and black pepper mix.
Make spicy bloody mary mix by blending thick tomato juice, lemon juice, Worcestershire sauce, prepared horseradish, celery salt, ground black pepper and Tabasco pepper sauce in a blender.
Add ice cubes in old-fashioned glass and pour vodka over it.
Strain and pour prepared spicy tomato mix in the glass.
Gently stir all ingredients, garnish as desired and serve.
Tips and Variations:
Use V8 spicy hot instead of Tabasco pepper sauce for a change.
Taste:
Spicy and tomato tangy.