Red Snapper Recipe
It is a derived cocktail similar to Bloody Mary. However in the modern world, both bloody mary and red snapper are different drinks. Red snapper recipe uses all spices and sauces in similar quantities to that of bloody mary but uses gin instead of vodka.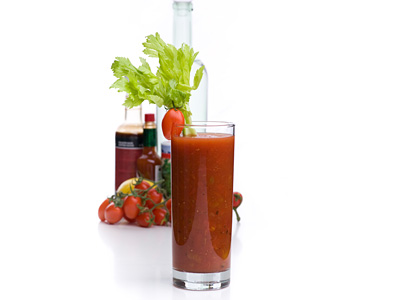 Preparation Time:
3 minutes
Ingredients:
90 ml (3 oz) Dry Gin
90 ml (3 oz) Pressed Tomato Juice (thick)
15 ml (1/2 oz) Fresh Lemon Juice
4 dashes Worcestershire Sauce
1 dash Tabasco Pepper Sauce
1 Celery Stalk
1 Cherry Tomato
9-10 Ice Cubes
Celery Salt and Ground Black Pepper mix
Directions:
Add 5-6 pieces ice cubes in cocktail shaker and then add all ingredients except celery and tomato; shake well.
Add remaining ice cubes in garnished glass. Strain and pour red snapper drink in it.
Garnish with celery stalk and tomato and serve.
Tips and Variations:
Skewer cherry tomato on a cocktail stick and use it as a garnish.
If you find this cocktail to be too much hot and spicy, then scale down the quantity of Worcestershire sauce and Tabasco pepper sauce.
Taste:
Hot and spicy. Gin adds aromatic botanical flavors to it.