Homemade Bloody Mary Recipe
There are certain advantages of making custom bloody mary at home because it gives you a freedom to choose and add-remove ingredients that does not suit your taste and modify the ratio of them to get desired taste. Apart from all these benefits, you can prepare bloody mary mix one day in advance, which allows all flavors to combine together very nicely and also frees you from last minute hassles while hosting parties.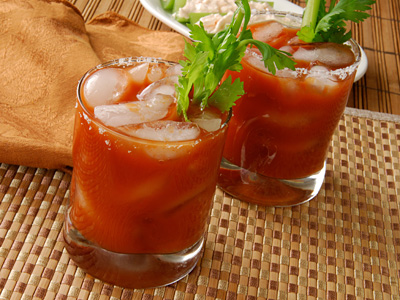 Preparation Time:
15 minutes
Glassware:
Old-fashioned glass
Ingredients:
180 ml (6 oz) Vodka
3 cups Thick Pressed Tomato Juice
3 teaspoons Lime Juice
1 tablespoon Worcestershire Sauce
1 teaspoon Tabasco Pepper Sauce
1/2 teaspoon Salt
1/2 teaspoon Celery Salt
1 teaspoon Ground Black Pepper
1 tablespoon Prepared horseradish (never creamed)
1 teaspoon Garlic (Minced) (optional)
3 cups Crushed Ice
6 pcs Celery Stalk
Directions:
Blend all ingredients (except ice cubes, vodka and celery sticks) in a blender.
Strain and pour prepared tomato-spices mix in bowl and put it in a refrigerator for few hours to chill. Once it is completely chilled, proceed to make the cocktail.
Add 1/2 cup crushed ice in all serving glasses and pour 1 oz vodka over it.
Pour approx 4 oz (120 ml) chilled bloody mary mix into each glass.
Add celery stalk in each glass and give a gentle stir and serve. If desired, garnish with cilantro or basil leaves.
Tips and Variations:
If you are planning to serve this drink in self-hosted brunch parties, then it is recommended to prepare the tomato-spices mix on previous night and allow it to settle and chill in refrigerator overnight. This simple step of advance preparation will bring out the best flavors in drink next day.
Taste:
Mild spicy and flavorful in each sip.
Serving Ideas:
Serve it as welcome drink for brunch parties and social hours.