Lemon Drop Martini Recipe
Do you want to have sweet and sour citrus martini for party or romantic evening at home? Try lemon drop martini, it is a classic sweet and sour lemony cocktail made with vodka and lemon juice. Learn how to make it and get cocktail kick in minutes with this recipe.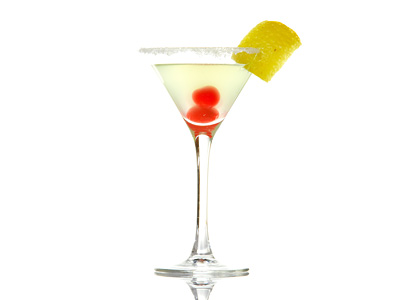 Preparation Time:
3 minutes
Ingredients:
45 ml (1½ oz) Vodka
15 ml (1/2 oz) Fresh Lemon Juice
10 ml (1/3 oz) Simple Sugar Syrup
1 Lemon Peel
2 Maraschino cherries, stem removed
Ice Cubes
Directions:
Frost the rim of glass with salt.
Take vodka (preferably citrus vodka), freshly squeezed lemon juice, simple sugar syrup and ice cubes in a cocktail shaker and shake vigorously.
Strain and pour prepared mixed drink in serving glass.
Drop cherries in the drink and place lemon peel on the rim of glass as garnish and serve.
Tips and Variations:
Use super fine white sugar if simple sugar syrup is not available.
Use good brand of citrus vodka for best taste and kick.
You can also garnish it with superfine sugar by dipping glass's wet rim in powdered sugar before straining the drink into it.
Serving Ideas:
Lemon drop martini is a perfect drink for party. Make your romantic evening even more beautiful and zesty with this martini.