Lemon Martini Recipe
The sweet and sour lemon martini is one of the best martinis ever. This refreshing drink was popular during 1970's and its still going strong. This martini recipe requires citrus vodka, triple sec and fresh lemon juice.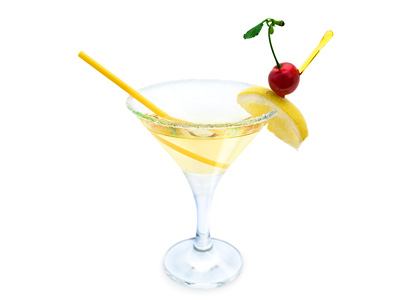 Preparation Time:
3 minutes
Ingredients:
60 ml (2 oz) Citrus Vodka
30 ml (1 oz) Lemon Juice
30 ml (1 oz) Triple Sec
20 ml (2/3 oz) Simple Syrup
1 Lemon Wedge
Ice Cubes
Directions:
Fill up cocktail shaker with ice until its 2/3 capacity.
Add citrus vodka, fresh lemon juice, triple sec and simple syrup in a cocktail shaker. Close the lid of shaker and shake it vigorously.
Strain and pour chilled drink into martini glass
Garnish by sliding lemon wedge on the rim of glass and serve.
Tips and Variations:
You can use plain vodka in place of citrus vodka.
If simple syrup is not available, then replace it with super fine bar sugar and shake little longer.
Serving Ideas:
It is a perfect party drink.