Blueberry Lemonade Martini Recipe
Take your spring and summer enjoyment to next level, try blueberry lemonade martini today. As intriguing as it gets, the blueberry lemonade cocktail is classic mix of season's two best flavors, lemonade and blueberry, in a cocktail that is not only refreshingly tasty but also looks trendy.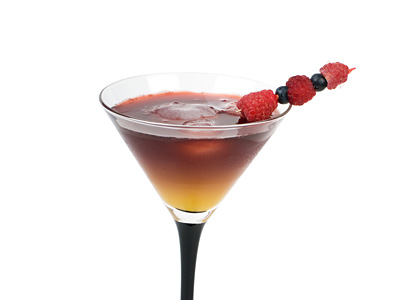 Preparation Time:
3 minutes.
Ingredients:
60 ml (2 oz) Blueberry Vodka
30 ml (1 oz) Limoncello
30 ml (1 oz) Blueberry Juice
2-3 fresh blueberries and Raspberries
Ice Cubes
Directions:
Fill cocktail shaker with ice until 2/3rd capacity. Add first two ingredients in cocktail shaker.
Shake thoroughly for 25-30 seconds. Strain and pour drink into chilled martini glass. Pour blueberry juice over it for multi color effect.
Skewer blueberries and raspberries in cocktail pick and garnish drink with it.